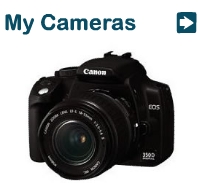 All the pictures on this website have been taken with one of my two cameras...
For the majority of my North American pictures, I have used a Canon Rebel XT with either a 18-55, or a 70-300mm lens.
Prior to that, I was using a Canon Ixus 500, so some of the European pictures may have a little bit of digital zooming.
Photos from New York, San Francisco, Montreal. Mexico, Phoenix, Vancouver, Calgary, London, San Tropez, Florence, Thailand, Manchester, Amsterdam, Glastonbury, Monaco, Prague, Boston, Vienna, Lyon, Cannes, Paris, Edinburgh, Slovenia, Budapest, Brighton, Ireland, Wales, Genoa, Trieste, Seattle, Toronto, La Paz, Lima, Buenos Aires, Easter Island, Galapagos, Rio de Janiero, Salvador, Montevideo, Cusco, Mendoza, Santiago, Valparaiso, Salar de Uyuni, Canal du Midi.